During the boat shows of September, the Invictus Yacht and Capoforte Boats brands of the Italian shipyard Aschenez revealed their new boats planned for 2023 : the TT420 and the SQ240i
International events highlights
Last September, we attended the Cannes Yachting Festival and the Genoa International Boat Show.
There were two occasions for el Cantieri Aschenez to meet its clientele and show off its fleet with the new boats.
At Cannes, the professionals and visitors had the opportunities to admire and visit three Invictus models:
The TT460, currently the biggest of the fleet
the GT320, modern, comfortable and refined
the GT320S, the sportive version of the previous one. Discovered for the first time during the Mandelieu Boat Show last April.
On the Capoforte side were exhibited onshore the CX240, CX270, SX200 and SX280 models.
It should be mentioned that the brand became independent this summer, since it was originally launched as an Invictus collection.
Two brands, two new boats
During the Cannes show, Invictus Yacht revealed the scale model of their brand new boat, which will be available by early 2023. Quite unexpected news since kept a secret until the event.
The TT420 is nothing less than the 42 feet version of the TT460. This delights the shipowners in search of the performances and design of the previous one, in a smaller size.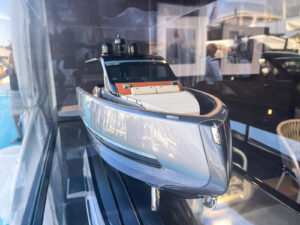 The Capoforte Boats communication strategy was quite different.
Indeed, their last innovation was announced on social medias since a few weeks.
Although it was expected, it was a real pleasure to discover with our own eyes the first electric boat of the brand, SQ240i. (More informations on the brand website : here)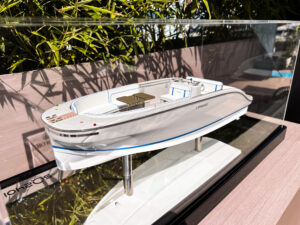 Through this 7.34 meters boat, which can welcome up to 10 people onboard, the brand has been honored with the Design Innovation Award 2022 at the Genoa Show. This gives them a new spirit, full of enthousiasm, for the rest of their adventures.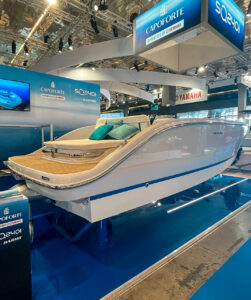 More informations to come about these two models on our website.
In the meanwhile, you can find all the models available in stock and on order, by clicking here .